See on Scoop.it – RosmondTrad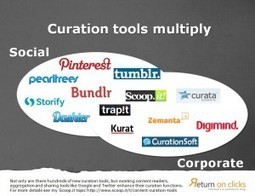 Therese Torris suggested me this her interesting and long article. Excerpted from it:
« Content curation help brands increase their visibility and their customer engagment.
– Content curation does help content discovery.
– Social content curation fosters customer engagement.
– Corporate curation tools help create a competitive advantage.
– But content curation is no panacea for failing content creation.
Most of us do "curate" content in that we collect, filter, edit, and re-dispatch online information related to the topics that are relevant to our friends and followers. We want to become the go-to person for our target audience on the topic we curate.
Content curation is much more than content aggregation. A brand curator handpicks the content that matches the interests of his target audience: He/she filters it to keep only the best. He/she also possibly edits and comments it, before posting the curated result on multiple media.
The emphasis is on "partly": curation tools assist curators, they don't do away with them as people able to make intelligent judgments about which content adds value to which topic and its audience.
***Content Curation Delivers Visibility and Engagement
a) visibility:
By organizing their content around topics shared with their audience, brands active on social curation sittes increase their chances to be discovered in a relevant context.
b) engagement:
Content curation does not only bring visibility, it also fosters customer engagement by adding external quality content that adds:
– Relevance;
– Unique content;
– Fresh content;
– Optimized content;
– Rich media;
– Trust;
– Entertaining content… »
The original article is analyzed with more information and with examples about different content curation tools.
I thank Therese to mention me as her favorite curator. Thank you so much!
Read full article here: http://return-on-clicks.com/index.php/2012/06/content-curation-for-brands/
Check out also her presentation:
http://www.slideshare.net/ttorris/content-curationtoolsforbrands
See on return-on-clicks.com